Bright Star is truly one of the most romantic, soulful, and deeply beautiful films I have ever had the pleasure to view. It is a feast of poesie, song, natural delights, and the bittersweet experience of LOVE. I firmly think that director Jane Campion (The Piano) did John Keat's life story justice, which is vital considering the poet died believing that he would be forgotten. In fact, he requested that his gravestone be void of a name. It reads Here Lies One Whose Name was writ in Water.
I don't wish to give away the story or the little secret beauties of the film, so this review will be simple. First let me warn potential viewers: Bright Star is a BBC film, which means England, which means Europe, which means ... American audiences may be completely bored by the slow, gentle pace of the film and long, poetic verses. At the viewing I attended with three friends, we were 4 of only 11 people in attendance! Two of my friends found it too slow and long, whilst my dear friend and myself were enchanted to the utmost limits of enchantment. I cried and cried, and even my friend who did not like the film found herself weeping at the end! For me Bright Star was not long enough! Many of the most visually graceful scenes were, I found, too short. I simply wanted more and more and more!
One of the aspects of the film that most struck me was its sublime innocence. There was a purity to Keats and Brawne that I never expected but was wholly appreciative of.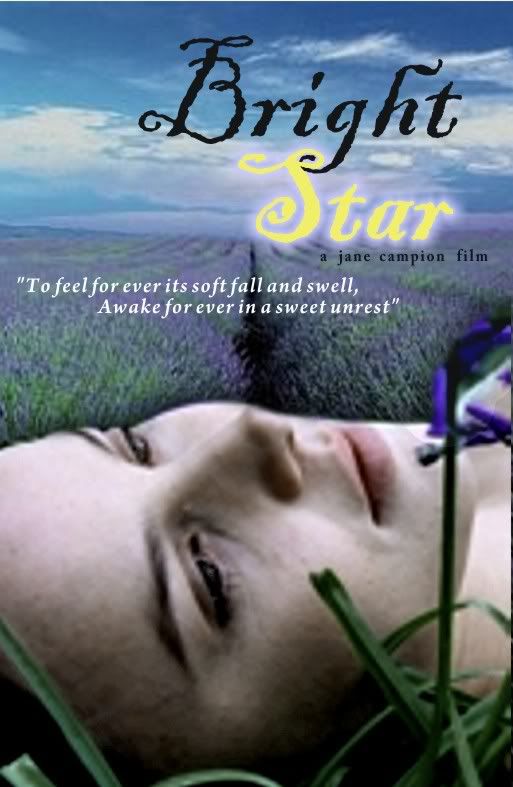 There are hidden treasures awaiting you when you see this film. Fleeting scenes of innocent love and playful moments, heart wrenching bursts of passion and anger, lingering verse and true-life love letters, sweet strains of violin - secrets of the film that you must see for yourself.
As for Ben Whishaw and Abbie Cornish, the acting was intensely moving. Mr. Whishaw played a mad murderous perfume-maker in my favorite film Perfume: The Story of a Murderer, and he also played Bob Dylan in I'm Not There, and Hamlet in a London production of Hamlet. I never questioned his acting abililities, but tonight I can honestly say that, if filmmakers continue to give him such elegantly crafted films, this actor will rise to be one of the greats. As for Abbie Cornish, all I can say is this: her acting is so believable and powerful, especially towards the end, that she left me stunned. I've never heard of her prior to Bright Star, but she has won me over completely! Whishaw and Cornish together are a heart-stopping delight, and Jane Campion remarked that the pair became close on-set, and that it gave her great pleasure to watch them quietly talking in a corner, bonding over this shared experience. She also has said that Cornish is a shy young woman, and that in many of the scenes where Whishaw would kiss her or hold her hand her blushes were genuine. Awwwwwww.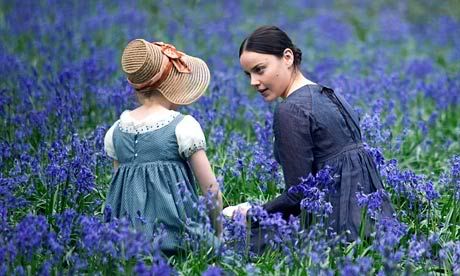 This is definately a film you will either love or hate. Literary majors should delight in it, as it is, afterall, the true story of the great John Keats! His name may have been writ in water, but that water rains down upon us now, and it cleanses and purifies every soul that it touches.
goodnight,
Lily